Intruder Escape is a Phoenix Rising from Reality X's Ashes – An Interview
Reality X emerged in 2018, combining the tense dread of an immersive horror experience with the puzzles and innovation of one of the best escape rooms. Their first experience, Welcome Home, gave participants the autonomy and freedom to explore a gigantic ranch house, completing puzzles while hiding (and escaping) from numerous killers stalking their every move. It was wonderfully frightening and the talented actors elevated it from a game of hide-and-seek to something far more immersive. Their second experience, Suspicion, was a real-life game of Clue, pitting players against each other to figure out the weapon, location, and killer based on real-world clues and LARP-like backstories. Yet, Reality X went dark after this – and emerging from the ashes is Intruder Escape. Taking ownership of the Welcome Home property and transforming it into their first experience, Cult, Intruder Escape promises to expand, refine, and improve upon Welcome Home to make Cult one of the best new immersive horror experiences.  Intruder Escape Interview
Haunting had the opportunity to sit down with Intruder Escape to discuss the evolution of their company, how they compare to Reality X, and what guests should expect when attending!
In your own words, what is Intruder Escape? 
Based on The Strangers, Midsommar and You're Next, Intruder Escape (IE) is a new breed of live entertainment, we like to call "Immersive games." Similar to an escape room, IE requires you to solve puzzles, tasks and scavenge for answers and clues, but you are not bound to a designated room; you have full control in this free-roaming experience. Where you go and how you play on the beautifully wicked properties is entirely up to you, all while having incredible storytelling by live actors to fully immerse yourself into our worlds.
There are endless amounts of approaches on how to play our game – but if you are caught by an intruder, you are placed in a trap and stripped from a point that you must regain after you escape the trap! This experience is an interactive and thrilling experience, fit for anyone who wants to get a bit closer to being in a real horror movie (with only light touching on the wrists and shoulder to guide you to your trap, we are not an extreme haunt).
Whether you play solo, with a partner or a team, every game is different and equally fair. How? We change our puzzles, answers and locations often, as well as the uncontrolled factor of being caught and stripped from a point. Nobody is safe and everyone will feel the emotions of being alone, stalked and the adrenaline of hiding, sneaking and solving as many tasks as you can!
What is the story behind the first experience, Cult?
From the skeleton of Welcome Home (last year's event), we needed the punch. A story. A remarkable, memorable and unsettling story. We want our guests to genuinely feel the intensity of being recruited into an organization that calls themselves a family with all the answers.
We believe the proposition of a cult-like experience is an untapped market that can bring a whole different aspect of horror that most (if not all) experiences haven't attempted. We spent many hours studying the characteristics of cults from around the world and tried to incorporate the recruitment, initiation, traditional practices, and daily life activities into our experience as much as possible. We want guests to be truly immersed in the world we have created from the second they arrive on our property to the second they leave. Our goal is for all "new initiates" to reflect on the bizarre and traumatizing, beautiful events that have occurred for days after the event.
From sound design to overall production value, we knew we had to improve on all levels from our previous experiences. We wanted to transform this 4D experience into something you would talk about with your friends and family. 4D? Yes, every sense will be stimulated…The horror/cult-themed tasks and route systems have changed dramatically. In the beginning, Welcome Home was a single route-based system meaning one person, duo or team had to select and follow one of six routes. No longer is that a thing, as everyone must try to complete the same tasks to each gather points. Although you are more than welcome to have a team, each person must complete the task to get their point. From who do you get the points? That we cannot say. A new route we have created is achieved only by participating in one of the two evening rituals… Each route is very interactive and hands-on – physically holding props, executing live experiments, etc. On top of the traditional routes for points, we have bonus routes that may be completed at anytime that often involve merch, promo codes and gift cards to local escape rooms and haunts. For our traps, when a guest gets caught by a cult member they are stripped from a point and placed inside a trap. These traps are cult-themed, fun and fairly easy to escape from while each trap comes with a special surprise…
Can you speak to the talented team behind Intruder Escape? What is the mission and vision of the company? How does it differ from Reality X? Are some of the same team members from Reality X included in Intruder Escape?
We have a talented group of actors that are well equipped on the experience of immersive theater while most of them have some sort of haunt background. Our mission is to have people leaving our experience in shock of what they just attended and question if they actually just joined a cult for days after our experience. None of Intruder Escape's actors worked previously with Reality X as this is a new theme that requires different "looks."
Your first experience is themed around cults; what inspired this narrative choice? Were there specific films, music, or real-world events that influenced this choice?
Our theme for this Fall's event was inspired from the nightmarish folk-horror genre. What Ari Astor did with the film Midsommar motivated us to take a different approach and steer away from the traditional elements that drive fear. We have three fundamentals we never stray away from: free-roaming, interactive quests/puzzles, and a hide-and-seek element, whether they be frightening intruders or traditional cult members.
Reality X excelled with a heavy emphasis on free-roaming autonomy and hide-and-seek mechanics; will we see the same in Intruder Escape? Will the actors touch the guests?
Yes! The overall characteristics and bones of how Reality X worked including the free-roaming ability is the same as Intruder Escape. The actors will still touch the guests (on wrists and shoulders) when bringing them into a trap, but none after that as we are not an extreme haunt of any kind. The hide-and-HUNT 😉 aspect will definitely be prevalent in our games after they get a glimpse of our established members.
How do you account for the safety of guests (and actors) in a free-roaming experience on unfamiliar land in the dark? What steps or training do you do in rehearsals or planning stages?
We rehearse the actors at all locations on the property and go through all scenarios that could arise to ensure they know what to do in all situations. Safety is our #1 priority throughout the experience as we fully understand the risk of running around an unfamiliar property in the dark. Everyone is equipped with a flashlight and map as well as our staircases are always lit throughout the experience. For those feeling risky, turn on a light… 😉
In terms of puzzles, can guests expect a more escape-room approach (i.e., solving clues to unlock rooms/boxes/doors), or more like a scavenger hunt? Are there different puzzle tracks like in Welcome Home? Do the tracks intersect/overlap? How do you prevent teams/individuals from interfering with another player's track/clues?
We do have different puzzle tracks but everyone must complete the same tracks to accumulate points. Each puzzle is very hands-on, interactive, and all relate to the theme of the Buchanan Family. Interfering with one's track was a big issue in Reality X and we made sure to clear that up in Intruder Escape. With everyone doing the same routes, every prop and piece of equipment is utilized and never reused during the night. There are enough for everyone as well so there are no overlaps.
You speak of a point system on your website, what does this point system entail and what are players aiming for? Will there be winners to each game? If so, what will they win?
Players are aiming to have the most points at the end of the "game" part. Completing a route = one point (routes are now simplified and not as long). We also have bonus routes that a player may choose to take at any time for a chance to obtain more points or promos, gift cards, merchandise from other businesses (i.e., The Basement, a VR experience, etc.). Everyone walks away with the same thing: an incredible experience and a mask. The winner will "receive" something in game but not something physical…
Narratives were a big piece of Reality X, but were largely up to the participant to uncover through puzzles and clues. Will actors be more involved in the narrative in these experiences? Will the participants have the agency to influence or even change the narrative?
Yes. This time around we are focusing heavily on narrative and an actual storyline. Participants will be able to change the end of the experience's narrative…
Locations often become characters in their story, and Welcome Home took place in a beautiful yet ominous ranch house. Can you speak about the locations planned for Intruder Escape? What about these locations spoke to you and what attributes were needed to fully evoke your themes?
We are staying at the ranch in Santa Clarita. It has the capacity inside and out that maintains darkness, silence and overall an on-edge and uncomfortable feeling. The crew doesn't even stay there alone, only when multiple people stay the night. The ranch has over 10 rooms to explore as well as 10 other buildings to find yourself hiding in.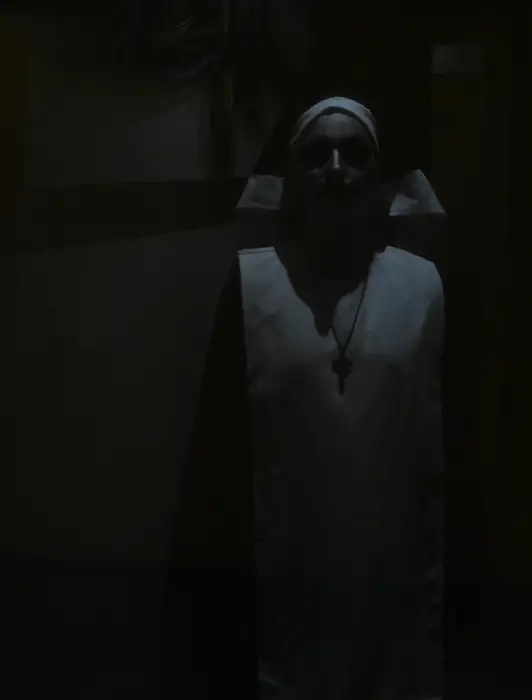 The imagery for Cult on Instagram is quite interesting. Can you speak to the design of the images? What feelings are you trying to evoke with your imagery? How did your artist find their voice for the project? Where do you find your images?
We love the feel of sleek, captivating and minimalistic Instagrams. We haven't taken on-set pictures yet so most are just in fields and at the studio. Not really much thought goes into why, just what is aesthetically pleasing and is on-brand.
What lessons did you take away from Reality X? What solutions did you implement to make IE a strong successor?
Girl. So, so many. We faced the true highest of highs and lowest of lows. Lessons that we will never put a price tag on and knowledge that will remain forever.
A huge lesson we learned was to not dwell in the mistakes and truest form of ignorance. They can only prepare you (if any) so much in schools and one must go through the ring of fire to truly learn. Learning to be a doctor and actually becoming one are two different things. One lesson was doing it alone, the creation process, legal process, customer service (or lack thereof) and much more company duties, as well as sleep, eat, work out, etc. with only 24 hours in a day. One area, if not multiple, will lack. So find a partner. Lesson 1.
Reality X teased a Hunger Games-inspired experience in the future – what experiences does Intruder Escape see in their future? Any teases?
Hunger Games and Suspicion will unfortunately not be forthcoming (Suspicion was sold), but what we can say is…Zombies.
What do you want people to walk away from your experience with? What do you want them to feel or learn?
I want people to walk away with the mindset that they've just experienced something that they never have before. We want each guest to take on the night as they would if they had walked into a horror movie. Everyone has the freedom to wander and play however they feel fit to reach the end goal.  Complete tasks, prove your worth, and survive the night.
Find out more about Intruder Escape and Cult on their website and Instagram. Make sure to subscribe to our Event Calendar for more immersive and horror events throughout the year.
---
Haunting is a resource for immersive theater and horror fans in Los Angeles and across the world, promoting art and community. Want to help us reach even more people, and get some cool perks and experiences? For as little as $1 a month, you can join our
Patreon
and help us keep bringing content to life.
If you like the above article and want to find more like it, make sure to join our community. If Facebook is your favorite, follow us there and become a part of our groups for Immersive Horror fans and/or Immersive creators. We're active on Instagram, posting evocative imagery and informative stories to promote our reviews and recollections; follow us there. You can even find us on twitter; click here to follow. For those who want to explore deeper, we have a vibrant Slack community with new event alerts and immediate ticket sale announcements; click here to join. And subscribe to our event calendar to get emails for all or specific events (look for the link right under the calendar)! Finally, we have a newsletter that comes out once a week; click here to sign up.
So however you like your news being delivered, we have something haunting for you.
Intruder Escape Interview Intruder Escape Interview Intruder Escape Interview Intruder Escape Interview Intruder Escape Interview Intruder Escape Interview Intruder Escape Interview Intruder Escape Interview Intruder Escape Interview Intruder Escape Interview Intruder Escape Interview Intruder Escape Interview Intruder Escape Interview Intruder Escape Interview Intruder Escape Interview Intruder Escape Interview Intruder Escape Interview Intruder Escape Interview 
Intruder Escape Interview Intruder Escape Interview Intruder Escape Interview Intruder Escape Interview