Groovy! Evil Dead: The Musical is Bloody F@!#ing Fun!
Kunda… Astratta… Montosse… Kanda… Something stirs within the woods, an ancient evil awakens. Join us, it whispers. The evil draws closer, consuming the living like an infection, and breathing new, rancid life into the dead. These demons writhe and moan, anxious to swallow any soul in their path. Then, they begin to… sing and dance..? Groovy! Evil Dead Evil Dead Evil Dead Evil Dead
It's the typical story: Five college friends take a vacation to a secluded cabin in the woods. They awaken a slumbering malevolence, which starts to claim their souls one by one, until only the handsome Ash is left. Taking on a horde of demons on his own (with some help from unlucky-in-love Annie), can Ash survive this demonic uprising and save the world?
Directed by Mark Andrew Reyes, Young Artists Forever's Evil Dead: The Musical is based on the 1981 cult classic film by the same name and its ridiculous sequel, Evil Dead II (Army of Darkness only gets a quick shout-out). Both an homage and a sort of musical parody of the "cabin in the woods" horror trope that the original film helped define, Evil Dead: The Musical is absolutely campy and bloody fun. A traditional proscenium musical theater piece, Evil Dead: The Musical incorporates the audience by breaking the fourth wall in cheeky asides or inviting them to sit in the Splatter Zone, where they will get covered in the gory effects of the iconic Ash facing off against a swarm of Deadites.
The production of Evil Dead: The Musical brings this impressive and creepy world to life. The sets and technical feats by Scott Chew and props by Hannah Tamkin are nothing short of magical… or evil. The details that went into the suspicious cabin in the woods – the paintings, the books, the mounted moose head, the cellar – are intricately crafted, and observant guests will notice Easter eggs throughout the performance. Was that painting always like that? What is that hanging over the doorframe? Not only is the set stunning, but the technical effects and movement of both the props and the set pieces create a convincing living, breathing world – literally.
Evil Dead: The Musical, while based on a "horror" film, really leans into the humor of Evil Dead II. Audiences will chime in during famous quotes from the films – This is my BOOMstick! – and cheer when Ash utters one of his signature lines – Gimme some sugar baby. Choreographer Danielle Orjala also adds her own layer of humor to the script. Musical numbers that can occasionally stop the plot in its tracks come vibrantly alive with Orjala's tongue-in-cheek dance choreography. A sanguine love song becomes humorous sexual foreplay; a ballad about evil becomes surprisingly heartfelt, evocative to audience and foliage alike; a chorus of dancing demons rivals Rocky Horror's "Time Warp" – only better; and a shocking revelation becomes one of the best power struggles while Tango-ing that I've seen.
The cast members of Evil Dead: The Musical are all worthy of applause. Driving the show in a demanding role is Matt Denoto as Ash. With such big shoes to fill, Denoto gamely steps up to the challenge and nails Ash's braggart demeanor. His vocals are on point and his physical stunts left me breathless. A part of me wishes I got to see Ash more at his wimpiest to better enjoy his heroic transformation, but Denoto hamming up his ego and charm is such a pleasure. Francesca Barletta as Ash's doomed sister Cheryl rocks her character so hard, I wanted to be evil with her. Barletta's characterization from timid nerd to brash pun-spewing demon is a triumph; she absolutely steals her scenes. Rounding out the five unfortunate college students are AJ Danna as horny Scotty, Maggie Kennedy as sweet Linda, and Katherine Steele as dim Shelly. Elissa Wagner commands the stage as cabin-owner Annie, who never lets her pitiful fiancé Ed (played by Nicholas Howard) get a word in. And Sam Machado (playing Jake), Amanda Lallos, and Mariah Tobin elicit laughs as several different characters.
In such an ambitious show, a few technical issues were present during my preview night performance. The volume of the microphones was a little low during some of the musical numbers, making it difficult to hear the actors. And, at times, some of the singing was slightly out of key. However, these small issues are expected to be adjusted and corrected beyond that of a preview performance.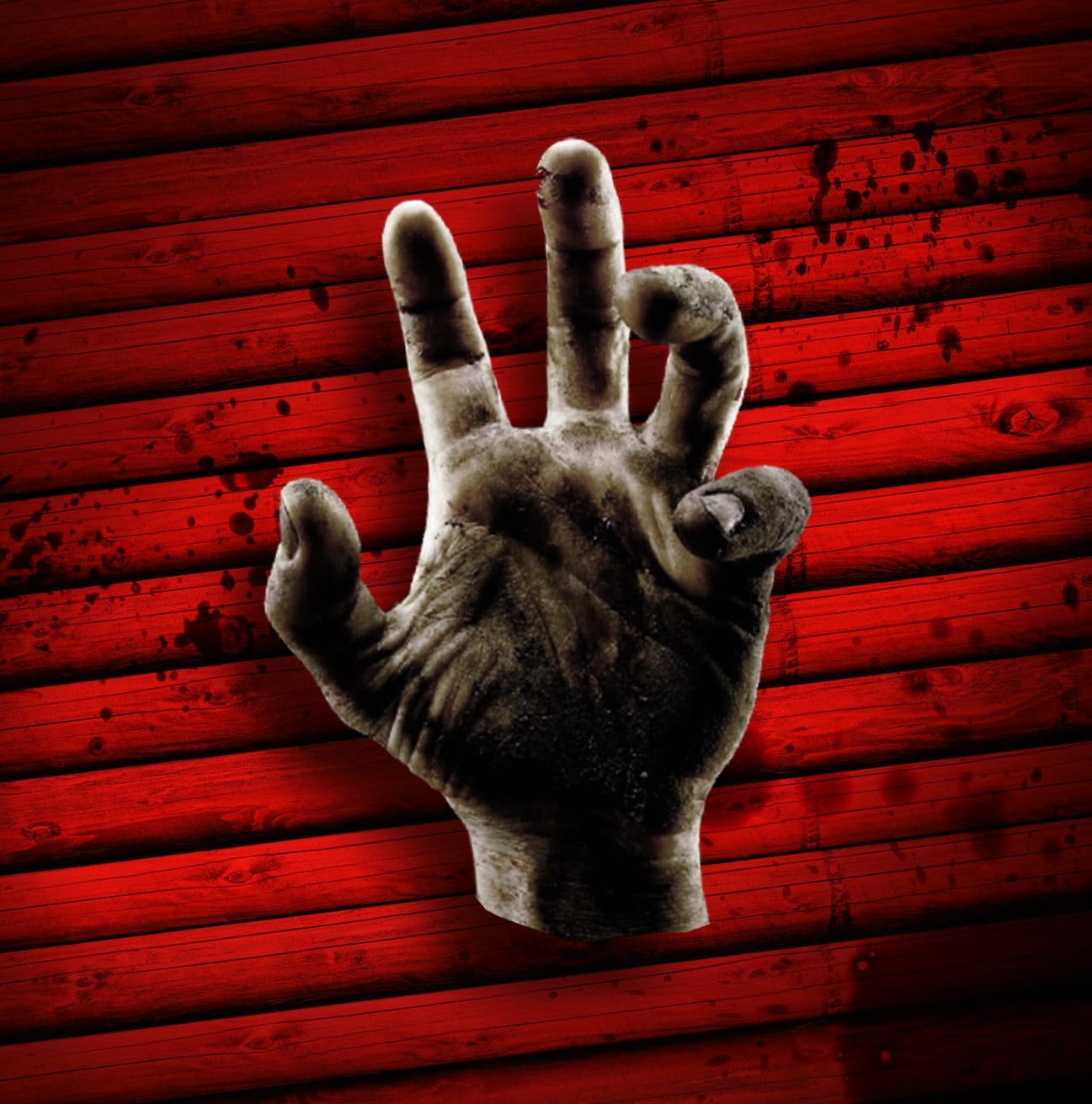 Evil Dead: The Musical is so much campy fun, but consider it R-rated for language, sexual innuendo, violence, and buckets of blood. With songs like "What the F*** Was That?" and "Blew That B**** Away," consider yourself warned and use your best judgement. Also note that the first few rows of seats in the center are considered the Splatter Zone. Audience members in the Splatter Zone WILL get bloody, mostly in Act Two, but there are ponchos and Ziploc baggies to protect yourself and your belongings (if needed). Additionally, Splatter Zone patrons can purchase a special, white Splatter Zone t-shirt to wear proudly during and after surviving the performance. There are also plenty of non-Splatter Zone seats for guests who want to watch the madness unfold from a blood-free distance.
Evil Dead: The Musical is a bloody riot, living up to the film's notoriety as a horror-comedy classic. With subtle, and not so subtle, nods to both the audience and the groovy source material, this show is overwhelmingly delightful and had this Deadite laughing and singing along from start to finish. Remember: Shop Smart. Shop S-Mart!
Evil Dead: The Musical is playing from April 5-April 14th at the Hillcrest Center for the Arts in Thousand Oaks. Find out more about Young Artists Forever on their Facebook page or website. Buy tickets for Evil Dead in the Splatter Zone HERE, and the non-Splatter Zone HERE. Then take a peek at our Event Guide for more horror and musical fun throughout the year.