Romeo and Juliet in Hell – Force of Nature's Comedy of the Damned
Romeo and Juliet run toward each other from the opposite ends of the stage, desperate to be reunited in their love and passion. Just as they reach each other, another figure enters. They turn to him expectantly as he opens his mouth. Instead of speaking to them, however, he begins to sing the opening notes of West Side Story's well-known ballad "Maria." There's no question about it: Romeo and Juliet truly are in Hell. Romeo and Juliet
Romeo and Juliet in Hell is Force of Nature Productions' follow-up to this year's Fallen Saints show. It's a dark, demented comedy written and directed by Matt Ritchey after having been part of the Hollywood Fringe Festival in 2014.  A strictly theatrical production that runs just over 60 minutes without an intermission, Ritchey's play packs the stage with Shakespearean and theatrical references at every turn. For those unfamiliar with either, this may be a play to skip. But for those who enjoy these topics, this production will have much stronger appeal.
The story centers, as one might expect from the title, on Romeo and Juliet moments after their death at the end of Shakespeare's play. The two are most definitely still in love, as evidenced by how eagerly they leap at each other. The sudden arrival of Tony (J. Elijah Cho), the lead from West Side Story, interrupts and confuses them as he continually sings his song over any attempt they make to speak or embrace each other.
When Mercutio and Tybalt arrive, they offer an explanation for what is happening. All of them now exist within a Hell that Shakespeare specifically created for every character that dies in one of his plays. Tony's appearance comes from being based on Romeo, and his constant singing is part of Romeo and Juliet's own personal Hell. They've all been essentially contracted to forever perform for the amusement of their creator (even going so far as to have contracts that bind them to their damnation). There is also Hell Central, however, run for some unknown reason by Bob Fosse. Juliet quickly spots that their contract has a clause that allows them to escape their personal Hell as long as they sit through their lives as portrayed by other Shakespearean Hell-dwellers. With the brazen assumption of the idealistic and newly damned, Romeo and Juliet agree to the production.
From this point on, the play produces jokes and references to nearly every Shakespeare tragedy, dozens of musicals and plays from other eras of theater, and even the occasional reference to improv and theater warm-up exercises. The overall production is nearly absurdist in its structure as audiences watch the story of the star-crossed lovers be performed by characters from the Bard's other tragedies. No aspect of theater is safe as the tale gets told.
To a large extent, the show works as the dark comedy it intends to be. The jokes come rapid-fire, one on top of the next. Some fly by so quickly that the audience may not even immediately realize the punchline. Some jokes are very broad in nature, such as Othello having to emphasize the word "more" every time he speaks. Others are smartly crafted, like turning the feud between the Capulets and Montagues into the actual game show "Family Feud." It's a chaotic mess of gags, jokes, and wordplay and it somehow comes together nonetheless.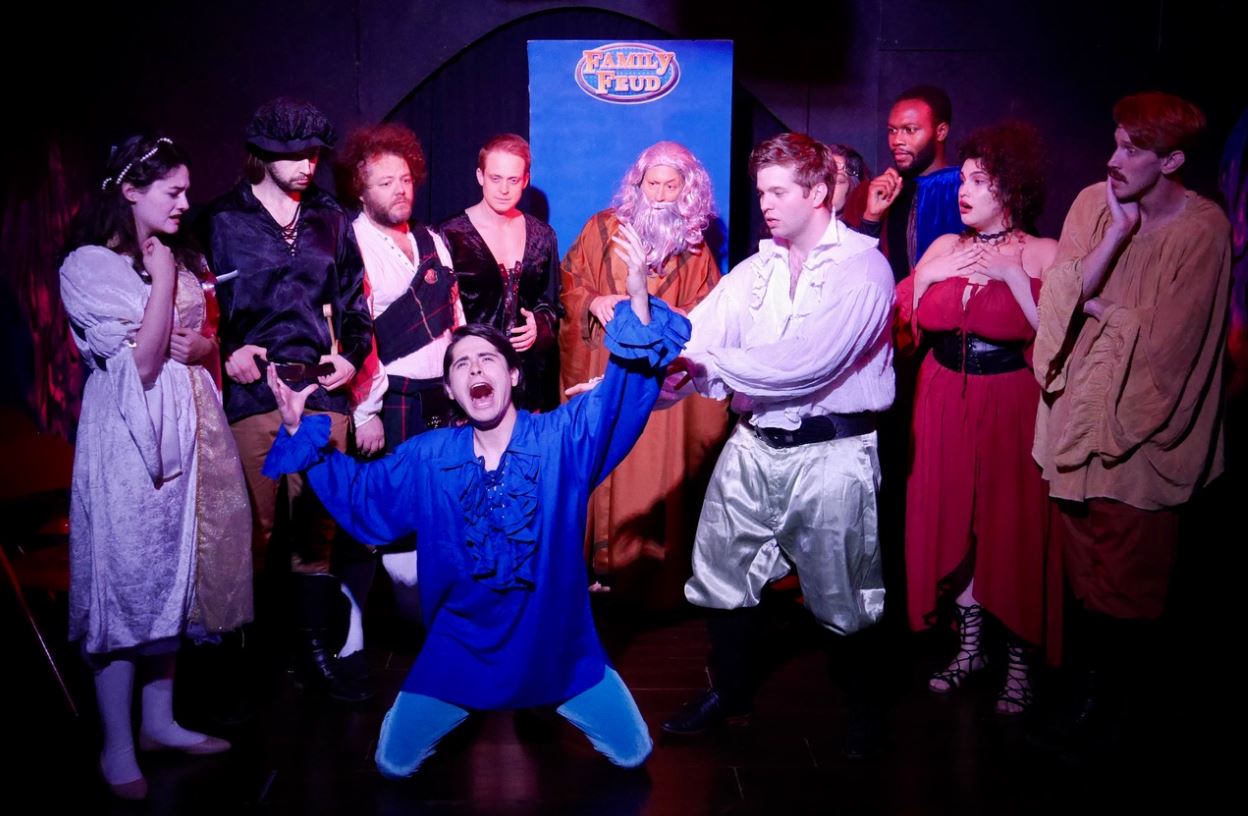 Much of the success of Romeo and Juliet in Hell comes from the willingness of its actors to commit to the insanity they are embodying. Mikael Mattison transforms Hamlet into a whining, lost man whose obsession with his friend's skull infuses everything. Graydon Schlichter's Macbeth is both unbelievably Scottish and highly amusing. He's a tired, cranky old man who seems to want nothing more than a good drink and a sane wife. Unfortunately, he gets Therese Olson instead. She creates a Lady Macbeth that appears just at the edge of a psychotic break at every single moment. It's a performance that requires vast stores of energy throughout, and Olson never seems to run out. Lauren Diaz gives Juliet brains and paranoia about her love's fidelity in equal measure, leading to some of the best moments in the show. Colton Butcher rises to meet her performance when he offers one of the best "innocent even though it's obvious I'm guilty" looks that anyone has ever performed while playing Romeo.
The two best performances come from Nick Ley as Mercutio and Carlos Chavez as Tybalt. These two create a comedic duo with nearly perfect timing and a rhythm of dialogue that felt like Timon and Pumba or Rosencrantz and Guildenstern. The moment when they decide to play each other's part in the show for Romeo and Juliet has a joy that is infectious to watch and a true highlight of the comedy.
Special mention should also be made of Kawika Aguilar as Bob Fosse. The choice of Fosse as the leader of a Shakespearean underworld is one of the less effective decisions in the show due to the complete lack of connection between the two icons. However, Aguilar embodies Fosse in a strangely wonderful way, making the character both parody and homage at the same time. It should not work on paper but it absolutely does live.
The same phrase could be said about the entire production of Romeo and Juliet in Hell. Everything that happens in this play could have made it into a mess of a production that failed across the board. But that is not what happens here. Romeo and Juliet in Hell offers a delightfully dark comedic tale. It blasts from joke to joke with a bravery that becomes infectious and without any shame for its absurd premise. On one level, the show is simply interested in giving an audience an enjoyable hour of entertainment and it does that quite well. On a second level, Romeo and Juliet in Hell is a commentary on Shakespeare's penchant for slaughtering his best characters, and on the very nature of theater itself. For those unfamiliar with either, this may be a play to skip. But for those who enjoy the Bard or the theater in general, this production will appeal to your knowledge in highly amusing ways.
Romeo and Juliet in Hell runs Friday and Saturday evenings through November 23rd; purchase tickets HERE. For more information on Force of Nature Productions, see their website, Instagram, Twitter, and Facebook page. Check out our Event Guide for more immersive and horror entertainment throughout the year.
Photography by Patty Mo.
---
Haunting is a resource for immersive theater and horror fans in Los Angeles and across the world, promoting art and community. Want to help us reach even more people, and get some cool perks and experiences? For as little as $1 a month, you can join our
Patreon
and help us keep bringing content to life.
If you like the above article and want to find more like it, make sure to join our community. If Facebook is your favorite, follow us there and become a part of our groups for Immersive Horror fans and/or Immersive creators. We're active on Instagram, posting evocative imagery and informative stories to promote our reviews and recollections; follow us there. You can even find us on twitter; click here to follow. For those who want to explore deeper, we have a vibrant Slack community with new event alerts and immediate ticket sale announcements; click here to join. And subscribe to our event calendar to get emails for all or specific events (look for the link right under the calendar)! Finally, we have a newsletter that comes out once a week; click here to sign up.
Romeo and Juliet Romeo and Juliet Romeo and Juliet Romeo and Juliet Romeo and Juliet Romeo and Juliet Romeo and Juliet Romeo and Juliet Romeo and Juliet Romeo and Juliet Romeo and Juliet Romeo and Juliet