Rizo Scarehouse – Start the Halloween Season with a Haunting Event
Haunting.net is delighted to invade Rizo Scarehouse in Rialto to sponsor a special event this Sunday, September 17 at 7pm.  Start the Halloween Haunt season with the Inland Empire's most terrifying haunted house! Adult tickets are discounted to $10; kids are free.  The event is open to the public, and all ages are welcome.
Rizo Scarehouse delighted fans at the ScareLA, offering the largest haunt at the Halloween Convention: a 3,600 sq. ft. maze of terror on the outskirts of the dark hall. This maze provided numerous monsters to stalk and hunt you in the darkness–and various areas to get lost in the fog.
We had a chance to talk to Isaac Rizo, creator of Rizo Scarehouse, about what to expect from the event this Sunday. "We have a two-part parking lot that will hold carnival games and food offerings; and people can line up for the haunt inside the warehouse." He also wanted to make sure that this event is open to families–and accessible to horror fans of all ages. "At the end of the day I just don't want anyone — even kids — missing out on a real haunted house." As the owner and one of the performers, he personally keeps an eye out to make sure kids are scared but safe.  "They love it, and usually want photos and hugs after." He works to assure that the haunt is family friendly, without nudity or profanity.  There is a safe word to end the experience if things get too intense (for people of any age).
Admission includes entry to the haunted house and much more.  So come out and join us for games, entertainment, vendors, and the first screams of the season. Oh, and don't miss the raffle — Rizo says the prizes are awesome!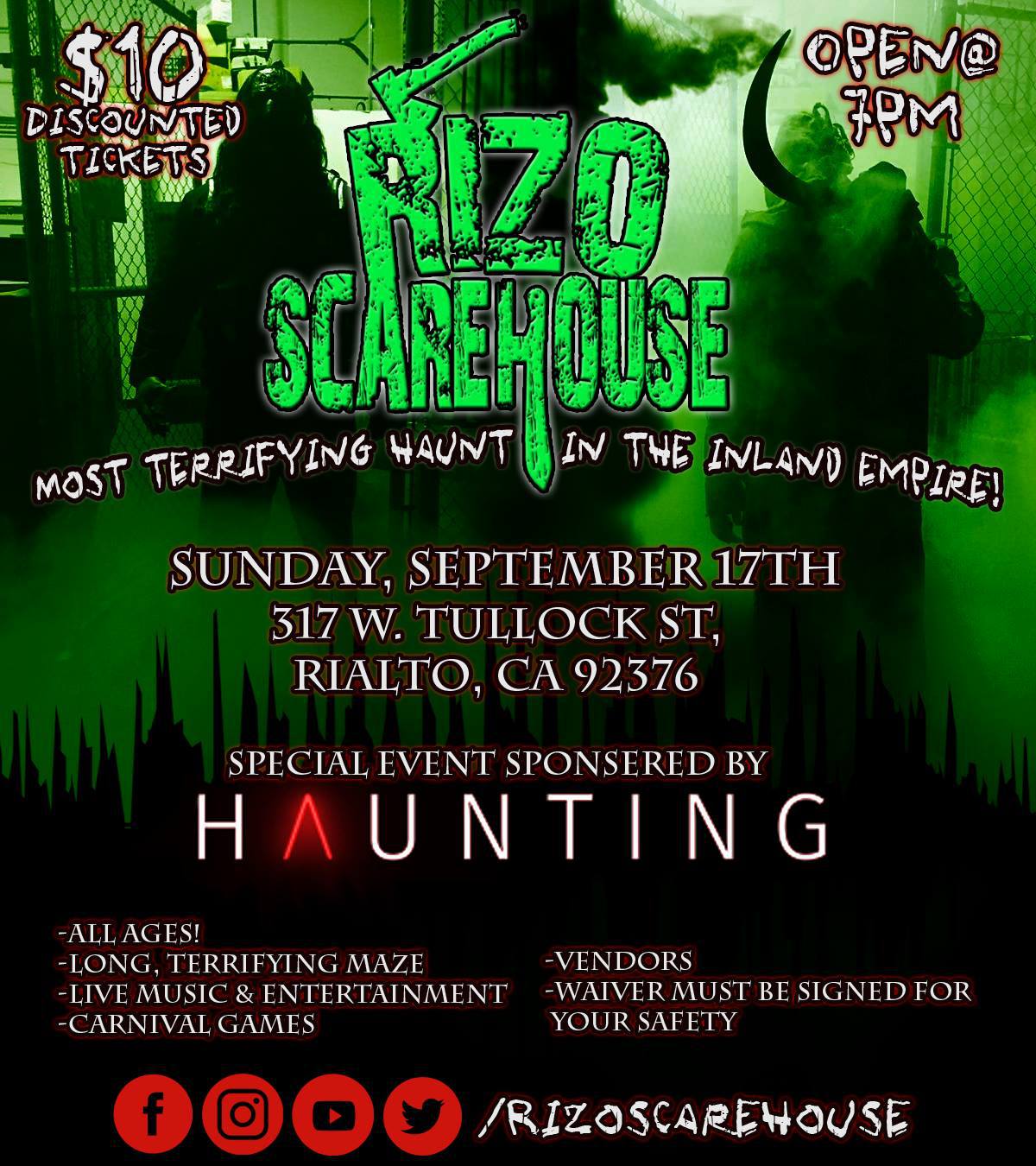 Sunday, September 17, 7pm. Rizo Scarehouse, 317 W Tullock St, Rialto. Check out their Facebook and Instagram.

The facebook event can be found here.
---
Haunting is a resource for immersive theater and horror fans in Los Angeles and across the world, promoting art and community. Want to help us reach even more people, and get some cool perks and experiences? For as little as $1 a month, you can join our Patreon and help us keep bringing content to life.
If you like the above article and want to find more like it, make sure to join our community. If Facebook is your favorite, follow us there and become a part of our groups for Immersive Horror fans and/or Immersive creators. We're active on Instagram, posting evocative imagery and informative stories to promote our reviews and recollections; follow us there. You can even find us on twitter; click here to follow. For those who want to explore deeper, we have a vibrant Slack community with new event alerts and immediate ticket sale announcements; click here to join. Finally, we have a newsletter that comes out once a week; click here to sign up.
So however you like your news being delivered, we have something haunting for you.