Miasma: Homecoming – Why Can't You Go Home? – A Review
"What do you think about that?" the man asks.
"I think this was a mistake," I answer as I stare at the unconscious woman on the floor, horrified at the crime in which I had just been a participant.
Moments later, I am pulled backward from my kneeling position, falling gently into a plastic cocoon and sealed in, left to become someone new. In complete darkness, as an oppressive soundscape reverberates around me, I take on the role of a guilty man, trapped and suffocated by my own sins. As I lie here, drenched in sweat, one question reverberates in my mind over and over again.
Who are you supposed to be?
Homecoming is Miasma's sixth extreme haunt experience and the first to take place out of Chicago. This time, Miasma creator Justin Brink invited participants to his hometown of Omaha, Nebraska for a deeply personal and intimate story that was just as much immersive theater as it was extreme haunt. Miasma is known for its emotional storytelling and Homecoming delivered it in spades. Don't let that fool you, however, as Miasma can be extremely physical. Miasma is challenging, but the pain in Homecoming always served to drive home the emotion of any given scene or further develop its themes.
The weaving together of intense thematic content and physicality is what made Homecoming such an effective experience. Violence, guilt, and suicide are inherently uncomfortable topics to explore, and the physicality appropriately reflected that when paired with uniformly excellent performances from Justin and the rest of the crew that left me shaking in fear or holding back tears depending on the scene.
I felt the futility of my promises to make things right with the woman I had hurt as she began to claw at my chest with a stunning ferocity. I felt trapped. There was no way I could make things right. So I screamed. Over and over I screamed just how much I fucking hate her. With each scratch down my chest, I understand the harm that had been done. I understood what it felt like to have no way out. How does a man this guilty keep living? Can he? Should he? This wasn't pointless extremity. No, this was storytelling that was essential to put me in the right headspace for the scenes to come.
Who are you supposed to be?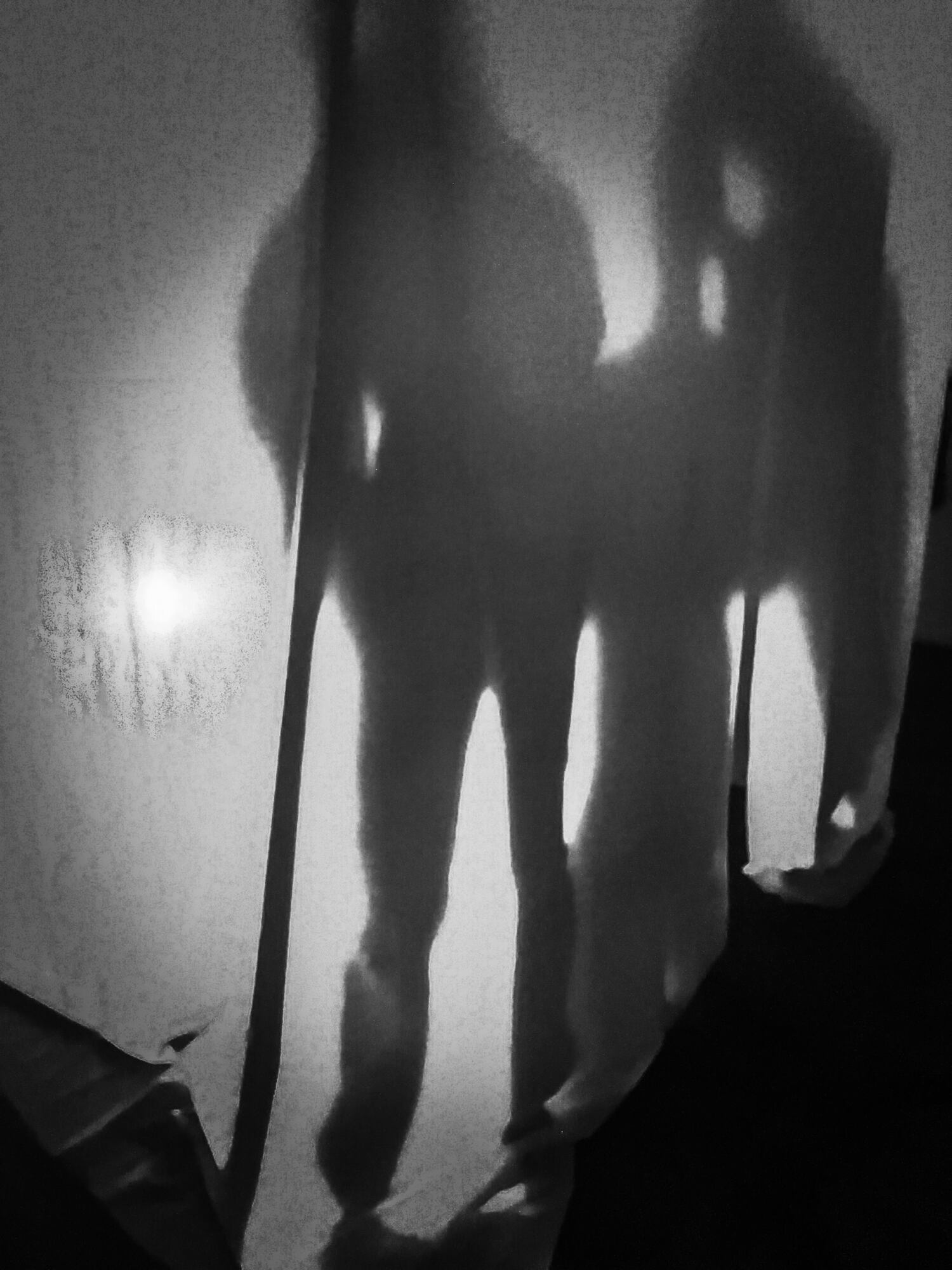 Like the physicality, the minimalistic set design and use of lighting both complimented the story wonderfully. I'll never forget the narrow blue room (a stark contrast from the overwhelming blackness of the previous rooms) in which I, with trembling hands, held a pistol inside my mouth and pulled the trigger. Nor will I forget being led backward, out of that room, into one filled with bright white and blue light. I could see a lone figure sitting inside of a translucent shrine. With just a few lights and one haunting image in the middle of the room, Miasma was able to convey a surreal other-worldliness. I knew now that I was no longer walking with the living.
It should be noted that although I was given a role to play, exploring the memories of actions that already come to pass, Miasma left room in a critical scene for the patron to make a choice. Are you driven by love? Or honor? I made my choice and stand by it, but I suffered for it greatly.
Who are you supposed to be?
The acting, physicality, set design, soundtrack (provided by Omaha-native noise artist Bovinae) lighting and personal agency all combined into one impressive story that, while not always presented chronologically, always made sense. The best way I can describe Homecoming is like the split second after pulling the trigger, reliving every painful regret, wondering if it could have ended any other way before waking into the afterlife.
For all of the darkness, Homecoming does seem to offer a shred of hope at the end of it all. As I was shocked back to life, I was encouraged: "Should you get a second chance, write your name on hearts not tombstones."
Maybe I'm starting to understand who I'm supposed to be after all.
Miasma isn't fun. It will make you uncomfortable. However, as I put Omaha in my rear-view mirror and drove home, I was sure I had never been more moved by a piece of art. Homecoming, like good art should, challenges its audience to see past themselves and empathize with other human beings. For those willing to face the uncomfortable, Miasma offers a safe but terrifying opportunity to reflect, and maybe even grow. I can't wait to see what they do next.
Find out about future Miasma shows on their website and Facebook page. Keep an eye on our Event Guide for more extreme haunts throughout the year.
___________
Haunting is a resource for immersive theater and horror fans in Los Angeles and across the world, promoting art and community. Want to help us reach even more people, and get some cool perks and experiences? For as little as $1 a month, you can join our Patreon, and help us keep bringing content to life.