M: Part 1 Proves That Bl4km4ss Knows Immersive Horror
This review of Bl4km4ss's M: Part 1 contains minor spoilers for characters, themes, and structure. While it does not give away major plot points, if you already have tickets, we recommend you do not read any further and simply enjoy the experience. If you're curious about their last experience, Prelude, please read our review and recollection.
I have a lot riding on you tonight, kid. The voice is rough, gravely, but friendly. Listen – and pay attention. I reach down, and despite my blindfold, I am able to release my seat belt. I swing my legs out and the certainty of the carpeted car gives way to the uncertainty of a foreign ground. A man takes my arm, and together, we walk across dirt, grass, concrete, and finally, hardwood. The same gravely voice speaks again: Hands at your sides. I comply, and my hands are restrained to my sides – but my vision is restored in trade. I look around, viewing the remnants of a fire burning in a large fireplace, torture tools residing on a small table to my left, and someone similarly restrained to the chair in the corner – wearing a dinosaur onesie.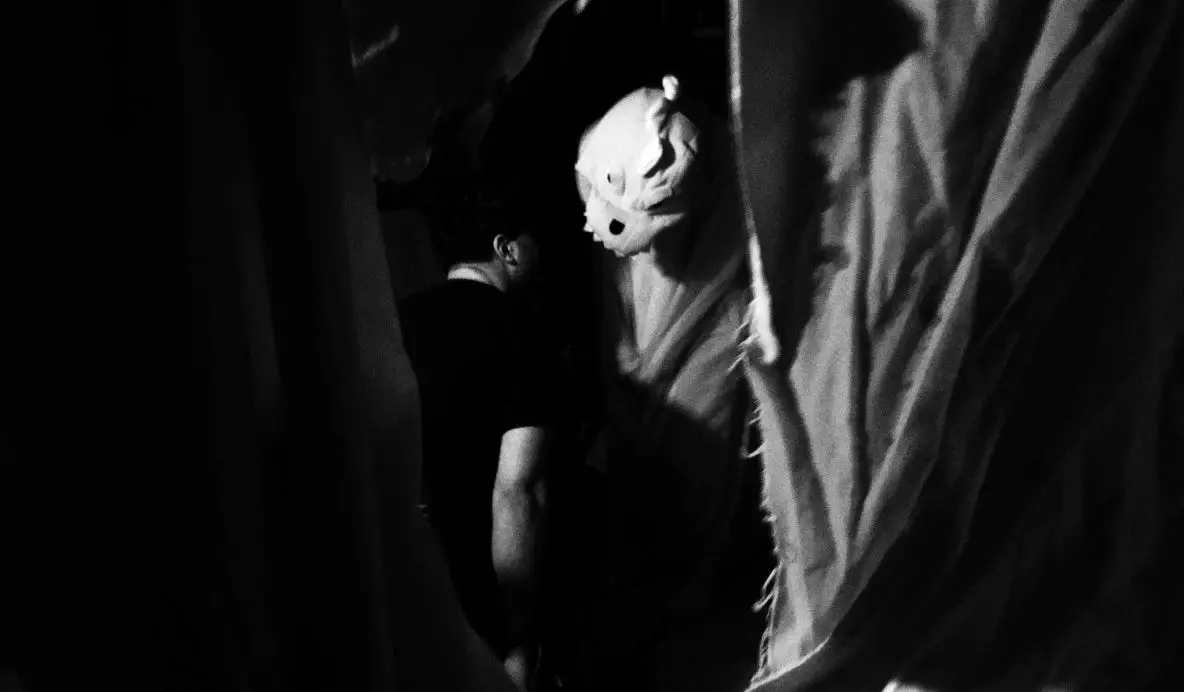 M: Part 1 is the second immersive horror experience by mysterious producer, Bl4km4ss. As a 30-minute follow-up to early 2019's Prelude, M utilizes a similar structure, but relies less on the car-ride portions and more on adding increased interactivity to the middle immersive section. Further, it increases the intensity from Prelude, interweaving it within the entertaining yet nebulous narrative structure. It wonderfully straddles the line between extreme haunt and immersive horror – providing a unique experience for fans of both genres.
While they classify themselves as an augmented-reality experience, the experience itself does have many of the extreme haunt staples. Guests can be expected to be aggressively manhandled, restrained, blindfolded/hooded, and leave covered in fake blood. But where Bl4km4ss differentiates itself from the others is in their innovative approach. In Prelude, they utilized a novel reimagining of Chinese Water Torture to continuously drip blood on the participant. M: Part 1 includes a few similarly creative techniques (that I will not spoil) to both disorient and shock the participant.
As a continuation of Prelude, your hosts and car-ride partners Baker and Claussen still bookend the experience. However, once you arrive at the residence, they step aside, allowing two new characters to shine: the enigmatic victim wearing a dinosaur onesie and a masked tormentor complete with voice changer. These actors are exceptional, both providing more opportunities for interaction compared to Prelude. There are a few choices to make, and while they don't have too much impact on how the night unfolds, this agency is a welcome addition.
The poetic details and nuances are still hidden in the fringes of this experience. Poems are read aloud while torture implements are examined. A blade is personified as a "she-bitch," reminiscent of the famous blade in Heretic's Midnight Killer series. And the role of each actor shifts with time, leaving guests on the edge of their seat, trying to determine their interconnectedness and role in the narrative. These nuances hint that a larger narrative structure is present, but this experience feels more akin to a bite-sized vignette in this universe.
Despite the strong changes and additions from Prelude, there are minor aspects that could have used attention. First, the new character – the tormentor with the voice changer – was utterly impossible to understand due to the nature of the voice box. Bursts of static and noise masked most of the dialogue he was saying, and the only portions in which his dialogue was digested was when he was right on top of the participant, whispering in their face. I assume this choice was made to conceal the identity of the actor (especially for those of us that knew him), but it obscured some of the necessary dialogue and made commands difficult to follow. Further, the motivation for why the audience is there is unclear compared to the initiation narrative in Prelude. A given purpose would elevate the experience and provide more connection to the new characters within, as well as emotional consequence for the actions chosen.
Despite these minor opportunities for improvement, M: Part 1 shows growth, aptitude, and strong potential for Bl4km4ss. M: Part 1 is a much-welcomed experience, brimming with a frightening, yet approachable demeanor. The actors are exceptionally strong, the location is purposeful, and the intensity is balanced. This continues to be a perfect experience for those looking for something a bit more terrifying than your hands-off immersive horror experience. I look forward to my next encounter with Baker and Claussen, and what experience they have to show me.
Keep up to date on future Bl4kM4ss shows by following them on Instagram, and checking our Event Guide.
_________________
Haunting is a resource for immersive theater and horror fans in Los Angeles and across the world, promoting art and community. Want to help us reach even more people, and get some cool perks and experiences? For as little as $1 a month, you can join our Patreon, and help us keep bringing content to life.