Fringe 2019 – They Played Productions' Internal Speaks from Within
I've never given much thought to what the voice inside my head sounds like.  I'd always assumed it sounds just like my speaking voice, but I've never really thought about it. That is, until I'm tucking a pair of headphones into my ears on a busy street in Hollywood, California, and a man is asking what gender my inner voice is so he can give me the appropriate narrator for my upcoming solo immersive experience. Internal
The man with the headphones is Erik Blair of They Played Productions, and the voice in the headphones will stand in for my own thoughts for the better part of the next hour. Blair and co-creator Thea Rivera have hit the ground running after closing their multi-show Captivated series earlier this year, and have designed this show, Internal, their entry for 2019's Hollywood Fringe Festival, almost as an artistic and experiential contrast to its predecessor. Where Captivated had a self-contained narrative with a deep sense of audience agency and choice, Internal is far more "on rails" as far as story structure; each audience member takes the same journey from point A to B without room for improvisation as a guest – while also allowing for a much broader application of its central themes to the world at large.
Internal is the kind of production that's perfect for the Fringe Festival at its roots: it's a threadbare structure – the show takes place outside as a sort of macabre walking tour of Hollywood (no venue, no problem) – and it's the kind of innovative theater project that truly earns the "Fringe" moniker, throwing off most of the trappings that would qualify it as "traditional" and trying something properly clever. It's a sort of zombie virus outbreak story, you see, but it speaks to a much bigger disease than the kind that makes you sick; it speaks to the disease in society, particularly in Hollywood itself, to considerable effect.
Through the headphones and multiple vocal tracks, They Played veteran performer Stepy Kamei stands in as each audience member's internal (get it?) monologue throughout the performance, which is impeccably timed along with multiple actors stationed along the busy Hollywood streets. Her execution is admirable – voice acting requires a substantial level of nuance, after all – and as the story continues, and my monologue begins to fracture into two disparate, argumentative parts, Kamei's performance shifts and splits skillfully.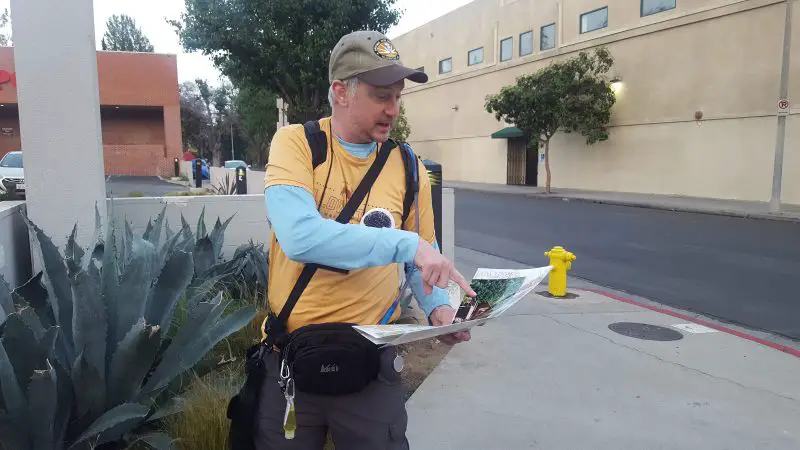 In a busy, active city like Los Angeles, walking while listening to the audio track alone might lead to unwelcome distraction, which is why the interspersing of live performers along the path is so smart – it allows the guest to halt and refocus on the story as they interact with a set of increasingly bizarre characters. Perhaps most notable is Lacey Rae, appearing only in the first weekend of performances (Captivated's Sarah Morris taking over for the rest of the run), in what is arguably the production's most frightening scene. It is the only moment where Kamei's audio track and the visual performance of an actor overlap, and the result is a creeping sense of dread, punctuated by a descent into the unknown.
It's exciting to see They Played take on and execute something like Internal. It speaks to a versatility of thought, performance, and social commentary that shows the production company is continuing to grow and expand at an admirable pace, and that they are unafraid to test new concepts and adapt to an ever changing social and theatrical landscape. When I finally arrive back where I started, plucking the headphones from my ears, it is with a healthy suspicion of my own social sphere, and even myself. Internal, though it is at heart a horror story, holds up a cracked mirror to the Hollywood landscape and those who live within it, especially its audience, and there's nothing scarier than that.
---
Internal is currently enjoying a one-night extension at the Hollywood Fringe Festival. Tickets HERE. For more information about future They Played Productions events, visit their website and Facebook page.
---
Haunting is a resource for immersive theater and horror fans in Los Angeles and across the world, promoting art and community. Want to help us reach even more people, and get some cool perks and experiences? For as little as $1 a month, you can join our Patreon, and help us keep bringing content to life.