Freakling Bros' Trilogy of Terror is the Must-See Haunt in Vegas
Freakling Bros' Trilogy of Terror is the crowning haunt achievement in Las Vegas. While this city has seen an uptick in horror entertainment in recent years – the Saw and Zoe escape rooms, Las Vegas Haunts' Asylum and Hotel Fear, and Majestic Repertory Theatre's immersive horror offerings – Freakling Bros Trilogy of Terror continues to match the competition with innovative scares, expansive sets, and strong themes. Each of their three haunted houses – Castle Vampyre, Coven of 13, and Gates of Hell – offers something different, allowing haunters of any intensity level to have fun: from the whimsically nostalgic Castle Vampyre to the R-rated, full-contact Gates of Hell.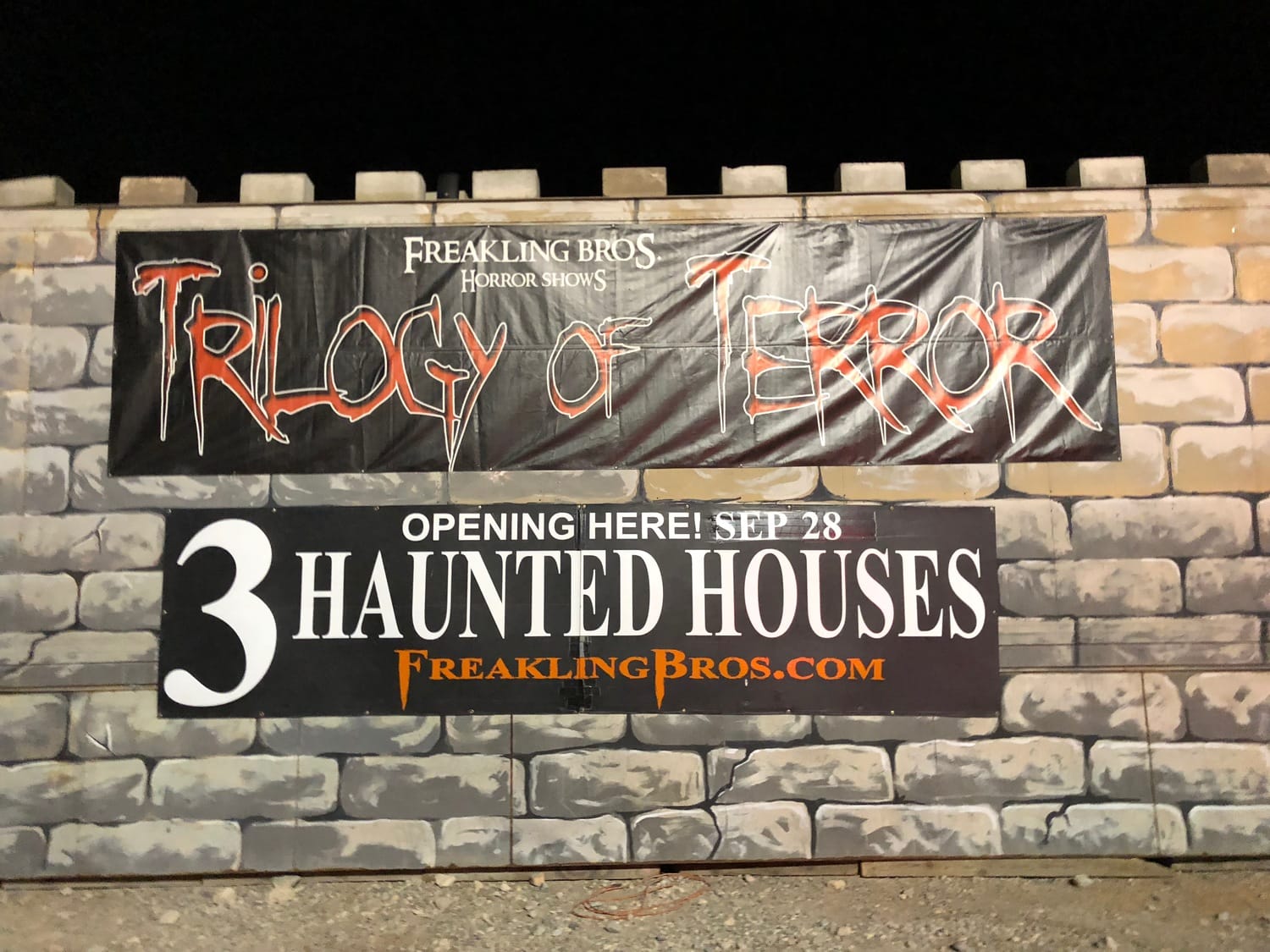 Trilogy of Terror Overview
With each of the three haunts lasting around 20 minutes – but feeling much longer – Trilogy of Terror is a fantastic deal at $17/haunt, or a Freak Pass ticket for $39 which grants admission to all three attractions. Additionally, there is an option to buy a t-shirt for $10 which allows guests to skip the line for all three haunts.
Each haunt here is designed as a stepping stone to the next, increasing in intensity and scares. Castle Vampyre capitalizes on nostalgic fear, whimsy, and illusions – leaving guests agape in awe more often than screaming fear. Coven of 13 elevates the fear by immersing audiences further with water effects, darker themes, and some truly frightening scares. But it's Gates of Hell that gave Freakling Bros.' Trilogy of Terror its reputation of a must-see. This R-rated experience pushes the traditional haunted house into extreme haunt territory, having guests sign a waiver and allowing actors to touch the audience – eliciting the greatest terror and leaving guests running from the exit screaming.
We recommend doing the mazes in that order (Castle Vampyre, Cover of 13, Gates of Hell) to properly build the fear over the night until it climaxes with the final event. However, for those who do not wish to experience the extreme nature of Gates of Hell, conquering the other two haunted houses is completely worthwhile and should not be dismissed.
Castle Vampyre
Castle Vampyre is magical. With its low ceilings, dark whimsy and illusions, it feels like you stepped into a Van Helsing story, but with even darker and mysterious twists. While there are many classic and powerful scares in this haunt, its strength comes from its delight and fun. Guests will have to swing over chasms, ward off bats, and find a way forward – and this is always accomplished in the most ingenious ways possible. Some of the most effective rooms don't even require actors, but the ones that do have real people in them are timed perfectly and expertly placed – and don't worry, they won't touch you.
Coven of 13
As the newest attraction (replacing the previous Circus of Horrors), Coven of 13 has some of the best effects, resulting in scares that I have never seen attempted in a haunt before. But Coven of 13 deviates from the lighthearted theming of Castle and takes a darker, scarier, and more immersive approach. As the name suggests, guests are invited to become the 13th member of a witch's coven – if they prove worthy. Participants are engaged beyond that of a traditional walk-through haunt, by sitting, crawling, and possibly partaking in some dark magic as they progress. Despite the scares in Coven of 13, the actors still do not touch you – but you may get wet and be challenged more than the tamer Castle Vampyre.
Gates of Hell
Gates of Hell is meant for those looking for something more intense from their haunted houses. As Nevada's first R-rated haunt, participants are given a safeword and must sign a waiver before entering. These are needed because Gates of Hell is a full-contact experience, allowing actors to touch – and by touch, we mean aggressively handle – audience members. But participants won't just be touched, they'll also face difficult themes of suicide, murder, and Satanism as well as claustrophobia and electricity. This is all handled in the most professional manner and with the utmost attention to safety. It's important to note that actors here are not trying to hurt guests or get them to call the safeword, but rather, push their boundaries and challenge them in ways they may not be during their normal lives.
Unlike the other two haunts, Gates of Hell does not tell a cohesive narrative, but rather, is themed loosely around death. Each room simulates a different way to die as guests face off against cults, murders, and firing squads. The fear is perfectly punctuated with outstanding audio tracks and detail-ridden sets. The innovative scares of the previous two haunts are brought to a crescendo here, but a larger reliance is given to the actors – as they will be in your face; but there are some clever effects that will elicit screams.
Gates of Hell is frightening and deserves the praise and attention it receives. Whether you work your way up to it or jump right in, try it. It's the perfect stepping stone to more extreme experiences – such as Freakling Bros.' own The Victim Experience, which occurs after the Trilogy of Terror closes down on select nights.
Final Thoughts
For horror and haunt fans, Freakling Bros. is a must-see if you're in Vegas for Halloween – or even worth a day trip from nearby Los Angeles. With a range of intensities, innovative and clever effects, and an extremely passionate team, the Trilogy of Terror has something for everyone. They are constantly retooling and refining each haunt to keep themes and scares fresh and to bring guests coming back for more. Next time you think of "Sin City," remember that there is a different type of sin just 15 minutes off the strip.
Follow Freakling Bros. on Facebook or see their website for upcoming events. And check our Events Guide for more horror experiences throughout the year.
Special Thanks to Tyler Rouse and Lacey Rae for their help in writing and formulating this article.
Freakling Bros Trilogy of Terror Freakling Bros Trilogy of Terror Freakling Bros Trilogy of Terror Freakling Bros Trilogy of Terror Freakling Bros Trilogy of Terror Freakling Bros Trilogy of Terror Freakling Bros Trilogy of Terror Freakling Bros Trilogy of Terror Freakling Bros Trilogy of Terror Freakling Bros Trilogy of Terror Freakling Bros Trilogy of Terror  Freakling Bros Trilogy of Terror