Bl4KM4SS Founders Reveal Their Creative Team
On January 1, 2019, four immersive creators invited people to immerse themselves in a world created to offer a glimpse into an alternate dimension of drama, horror, and noir. These creators intended to challenge, move, disturb, disrupt, connect, and change guests' way of being. They are the Bl4km4ss Founders. 
BL4KM4SS was founded by a team of four who share and rotate artistic/creative roles: Alex C. James, Amori Stewart, Paul Stephen Edwards, and Reyna "Chainsaw Queen" Velarde. "We started out anonymously because we wanted our art to speak for itself, we didn't want people to have a certain expectation of who we are or what we do." – The 4 Founders
BL4KM4SS began with the "M" Storyline: Prelude, M-Part I, Clausen: Inauguration, and coming this Winter, Part II. Written and directed by Alex C. James, he explains that "immersive theater is intimate unlike like any other form of storytelling. You are not safe behind a screen or in an audience. You must make choices and feel the consequence." Inauguration has two more slots available on 11/23.
BL4KM4SS then presented P4TH0L0GY, written and directed by Reyna M. Velarde and Paul Stephen Edwards. "We created a show that we can do anywhere and access anyone." P4TH0L0GY is an active show, with events in Northern California and San Diego coming soon.
BL4KM4SS is currently running M90sN, a one-woman immersive theater production, through October 25th, written and directed by Velarde. "I realized my life is a horror story. I was a different kind of victim so why not make it immersive and tell it through a creative outlet." M90sN is now sold out. This show, unlike the others, is a group experience… but participants will experience parts of the event alone.
BL4KM4SS has an amazing cast, led by casting director Amori Stewart. Most of the art created for their Instagram page, short films, and all other media is created by art director Paul Stephen Edwards. Scheduling and communications is headed by the "insanely organized" communications director, Reyna Velarde. While everyone shares a creative role, the lead creative director is Alex C. James.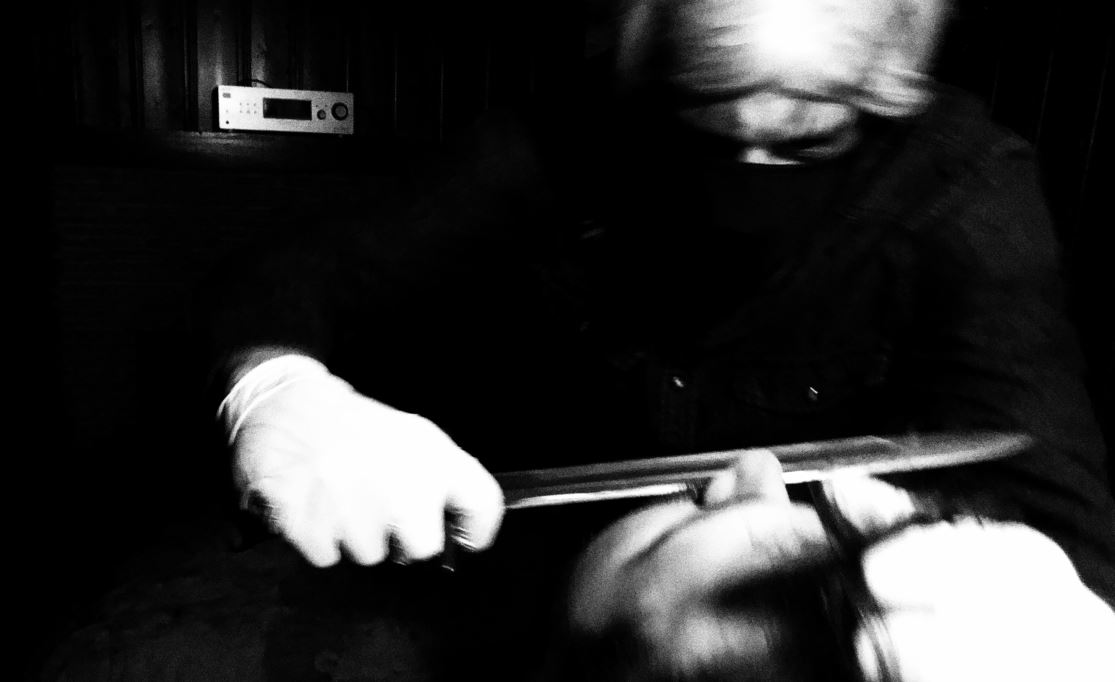 Since January of 2019, BL4KM4SS has produced a show every month, with new shows continuing through December, and there are plans for at least 16 shows in 2020.
BL4KM4SS also presents H0L1D4Y with BL4KM4SS, a show every month on a special holiday. Participants may elect to buy a HOL1D4YP4SS to purchase multiple shows and guarantee a spot for each H0L1D4Y. Four Levels will be available, with three-five passes per level, and each show will be limited to five-ten participants. Shows will only run for one day/night. H0L1D4YP4SS will come with different perks (like a sweater, t-shirt, extra passes, and more). Shows will run between 20-90 minutes. Some events will be group experiences, but each will include a solo segment for every guest. Some shows will include food and/or drink. Those who have an approved application on file will receive information on how to book their pass–expect information on October 1st, 2019.
For more information on upcoming shows, follow BL4KM4SS on Instagram; email them at bl4km4ss@gmail.com to apply. Once your application is approved, you will receive show information before anyone else, priority registration, and select discounts.
---
Haunting is a resource for immersive theater and horror fans in Los Angeles and across the world, promoting art and community. Want to help us reach even more people, and get some cool perks and experiences? For as little as $1 a month, you can join our
Patreon
and help us keep bringing content to life.
If you like the above article and want to find more like it, make sure to join our community. If Facebook is your favorite, follow us there and become a part of our groups for Immersive Horror fans and/or Immersive creators. We're active on Instagram, posting evocative imagery and informative stories to promote our reviews and recollections; follow us there. You can even find us on twitter; click here to follow. For those who want to explore deeper, we have a vibrant Slack community with new event alerts and immediate ticket sale announcements; click here to join. And subscribe to our event calendar to get emails for all or specific events (look for the link right under the calendar)! Finally, we have a newsletter that comes out once a week; click here to sign up.
Bl4km4ss Founders. Bl4km4ss Founders. Bl4km4ss Founders. Bl4km4ss Founders. Bl4km4ss Founders. Bl4km4ss Founders. Bl4km4ss Founders. Bl4km4ss Founders. Bl4km4ss Founders. Bl4km4ss Founders. Bl4km4ss Founders. Bl4km4ss Founders. Bl4km4ss Founders. Bl4km4ss Founders.